Faculty: Pat Hogan-Vidal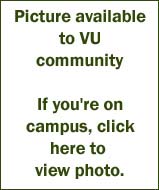 Media Cataloging Services Librarian
Christopher Center, Room 173
(219) 464-6128
Pat.HoganVidal (at) valpo.edu
Professor Hogan-Vidal joined the Valparaiso University faculty in 1988. She works in Technical Services.
Prior to joining the Technical Services, Prof. Hogan-Vidal was Head of Reference Services for two years, and continued to manage the Library User Education Program for an additional 7 years. She also supervised the Interlibrary Loan Office, managed the Audio Library and Equipment Loan Service, and was the library's first website manager. Before coming to Valpo, Prof. Hogan-Vidal was employed in Association of Research Libraries member libraries for over ten years.
Areas of research interest include holistic librarianship, psychology and communication issues in library use and management, and marketing the library.
Organizations:
American Library Association
-- ALCTS Division
Indiana Library Federation, IALA and TS division – District 1. Active on the Conference Planning Committee.
Education:
M.L.S. – Indiana University
Areas of Specialization:
Cataloging visual, audio, and electronic media
Reference
Prof. Hogan-Vidal has been published in Indiana Libraries, and presented at the OVGTSL Conference.