Faculty: Rachael Muszkiewicz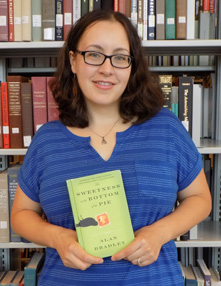 Research Services Librarian
Assistant Professor
Christopher Center, Room 266
(219) 464-5464
Rachael.Muszkiewicz (at) valpo.edu
Professor Muszkiewicz joined the Valparaiso University faculty in the summer of 2010. She is part of the Research Services team, which coordinates the library's marketing, outreach, and programming. She creates or curates the majority of displays and exhibits in the Christopher Center. Additionally, she teaches library instruction and is the library liaison for Chinese & Japanese Studies, Classics, Ethnic Studies, Foreign Language & Literature, Interlink and Sociology & Criminology.
Prior to joining the Christopher Center, Prof. Muszkiewicz finished her library and information science degree with a certificate in archival administration at Wayne State University. Prof. Muszkiewicz has a background in archaeology and anthropology and has archaeological experience both in the field and in the laboratory.
Areas of research interest include library outreach and marketing, displays and exhibits, librarian accessibility, humor in the library, and information literacy.
Publications
Muszkiewicz, R (2015). You can "like" it on paper too: reaching digital students through analog displays. In S. Bonnand & M.A. Hansen (Eds.), Innovative Solutions for Building Community in Academic Libraries (127-155). Hershey, PA: IGI Global.
Presentations
Presentation: Librarians and ESL Instructors Unite for Information Literacy! (with Jennifer Shelton) INTESOL (Indiana TESOL), November 2016
Poster Presentation: Patron Driven Programs: Successes and Lessons Learned from Turning the Library Over to Students for a Week, (with Mark Robison) American Library Association Annual Conference, June 2016
Professional Memberships
American Library Association
- ACRL Division
- Anthropology and Sociology Section
Archaeological Institute of America
Education
M.L.I.S. – Wayne State University, MI
M.A. – University of Bristol, England (archaeology for screen media)
B.S. – Michigan State University (anthropology)
Campus Involvement
Faculty Advisor, The Athena Society
Faculty Advisor, Lambda Chi Alpha (Iota Sigma Chapter)
Academic Advisor, Exploratory Majors
Faculty Concerns Committee member
Areas of Specialization
Student Outreach
Library Marketing
Information Literacy
Instruction
Library Media
Copyright
Display coordination
Other Interests
Prof. Muszkiewicz is still acclimating to life in a small town with her husband, children, and her ridiculously named cat, Postmaster General Thaddeus Washbourne. She reads entirely too many zombie books, and enjoys biking, trivia and being close to Lake Michigan.