Schnabel's Inaugural Address
Background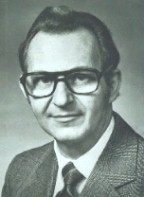 Dr. Robert V. Schnabel was elected president of Valparaiso University in 1978 while serving as vice president for academic affairs and dean of the faculty at Wartburg College, Waverly, Iowa. Prior to his affiliation with Wartburg, he was president of Concordia College, Bronxville, New York, from 1971 to 1976.
A native of Scarsdale, New York, he earned degrees from Bowdoin College (Bachelor of Arts 1944) and Fordham University (Master of Science 1951 and Doctor of Philosophy 1955). He studied also at Concordia College, Bronxville; Concordia Seminary, St. Louis; Indiana University, and the University of Michigan.
His teaching career included 14 years at Concordia Senior College, Fort Wayne, Indiana, where he was chairman of the department of philosophy and later academic dean.
He presided at Valpo until 1988, the University continuing to progress in all areas. In 1987 it was ranked No. 1 among Midwestern and Western comprehensive institutions by U.S. News and World Report.
---
Dr. Robert V. Schnabel
Inaugural Address- Delivered October 7, 1978- Valparaiso, Indiana
Promise and Calling, Purpose and Commitment
I am keenly aware, on this occasion, of the bonds of our generation with the founders of the Lutheran University Association, the University's four prior presidents in its life under Lutheran auspices, and past and present members of the Board of Directors and administration, faculty, staff, and student body, Alumni Association and University Guild, individual, congregational, and churchbody supporters and benefactors, and hosts of others through whose faith and vision, prayers and labor the University was adopted and nurtured. In the two months since arriving on campus I have sought to grasp and appropriate something of Valpo's genesis and genius, heritage and hopes, problems and progress, potentialities and prospects particularly in its period of Lutheran sponsorship since 1925. It is perhaps understandable that on this day the inauguration messages of presidential predecessors have special significance.
According to Dr. W. H. T. Dau, who assumed the presidency of the University in 1926, it was the conviction of laymen and clergy from congregations of the Evangelical Lutheran Church of Missouri, Ohio and other states, who established the University as an institution of higher education for lay persons, that studies of the universe, with all its wonderful powers and mysterious workings, and studies dealing with man, should be pursued in light of Scriptural truth as in the presence of the all-wise Creator and Ordainer of all that is. The sciences are not filled with threats to the student's faith, Dr. Dau declared, for the student is assured by Gospel that the God who loved man when He might have cast him aside, and who secured man's righteousness in His sight by the sacrifice of His own Son, is the Lord of all creation. President Dau's view was that all studies of sciences and arts, pursued in this way, would give substance to the University's seal, "In luce tua videmus lucein" (In Thy light we shall see light).
Dr. O. C. Kreinheder, who came to the presidential office in 1930 when the Great Depression endangered the life of many social and educational institutions, declared that "the highest ideal of a noble life is the Christian ideal and the Christian ideal is the ideal of service." President Kreinheder stressed as the University's mission service to the country through the education of men and women of Christian character and service to the church by furnishing an educated laity. Dr. Kreinheder's administration provided critically important means to realize these goals by the establishment of the Alumni Association, the Valparaiso University Guild, and the Department of Public Relations and Development.
World War II had begun in Europe when Dr. O. P. Kretzmann assumed the presidency of the University. It was a time of twilight in the western world which, in Dr. Kretzmann's words, called his generation to turn again to those lights by which men find their way between eternities, light which will not die, through a quest for Truth which is greater than power and wisdom which is sharper than the sword. For President Kretzmann, a university is essentially an association of free men and women in a community dedicated to the search for Truth free and unbroken. The destiny of Valparaiso, President Kretzmann said, does not lie in a negative approach to its problems and opportunities, saying "No" to reality, by ignoring the impact of science on the life and thought of man, the manifest tensions in the social order, and the constant and crying need for intelligent reorientation as scholars throughout the world push back the horizons of man toward the Unknown. Rather, the University must immediately and incessantly appropriate every newly discovered truth, place it in the permanent reference of eternal Truth, and lead in the progress of knowledge. Valparaiso University, in particular, must make men wise as well as scientific, give them understanding as well as knowledge, and make them noble as well as useful by recovering the one great fact the wayward world has forgotten: the reality of God and the individual's responsibility to Him, a responsibility which can be met only by the fact of the Atonement and the re-establishment of an intimate relationship with the Ruler of the Universe through Him who once entered the stream of time in order to tell men that they could know the Truth and that the Truth would make them free."
A new war in the Middle East which divided the nation and brought unprecedented turmoil to college and university campuses was under way when Dr. A. G. Huegli succeeded Dr. Kretzmann ten years ago. President Huegli in his inauguration message took up the matter of what it means to be a Christian University which maintains academic integrity with passionate concern for questions of ultimate social and moral significance. He set forth two major goals: (1) academic excellence through quality faculty committed to highest professional standards and students committed to quality in educational work; (2) educational freedom linked with spiritual commitment and academic dialogue which draws on Christian scholarship and traditions, resists fragmentation of learning, respects the wholeness of reality and the priority of ultimate issues, and "…continually underscores those values which are grounded in the law and the love of God." Dr. Huegli identified means to achieve these goals: (1) an accent on exciting and effective teaching; (2) liberal studies which free the mind to probe and penetrate beneath the surface; (3) attention to the student as an individual person; (4) building a campus community which, cherishing diversity of gifts while also prizing the bonds that bind together the life of students and faculty, calls for self-limitation of one's own freedom so that the benefit of all may be achieved, a community of concerned persons ready to support and help one another; (5) increased special service to the church and to the local and Northwest Indiana community.
The first point to be made by this fleeting review is that during the administrations of these presidents, the University confronted social and political upheaval and economic and institutional distress. This is a sobering and encouraging corrective to those of us facing the challenges of the 1980's who think that our times alone are out of joint. (I shall not recite the familiar litany of financial, enrollment, and other problems now facing higher education.)
The second point is that through divine blessing and the devotion of untold members and supporters of the University family on and off campus, many of whom are here today, Valpo was able to confront its challenges, redeem its opportunities, and move into the mainstream of the American academic community as a notable national institution of Lutheran higher education. I wish to pay special tribute to Dr. Kretzmann, "The Pilgrim" through whose indomitable faith, vision and inspiring leadership Valpo came of age as a University. And I wish to pay equal tribute to Dr. Huegli, through whose solid academic statesmanship, administrative skill, and executive expertise Valpo has moved forward as a well respected university. It was in "the Huegli years" that the $28-million "Forward to the Eighties" program, now over 90 percent completed, was begun, through which, in large measure, the University has been judged by higher education authorities as financially "strong and gaining."
The third point to be made is that the thread which binds together the fabric of Valpo's history as a Lutheran university is the common commitment and shared vision of the members of the University community during this half-century. We have been bequeathed a most substantial legacy and notable heritage. In the remarks which follow I wish freely and joyfully to identify myself with this mission and heritage, using the theme, "PROMISE AND CALLING, PURPOSE AND COMMITMENT."
I. PROMISE
The Church is a gift of God through His Spirit, who calls it into being by the Gospel, enlightens it with His gifts, sanctifies it and keeps it with Jesus Christ in the one true faith. Established in Christ as the adopted and redeemed people of God through Baptism, brought to repentance by God's Law, nourished in faith by Word and sacrament, and renewed by the gifts of the Spirit, the Church lives by the promises of God.
The people of God are summoned to live out their calling in a life of Christian servanthood and responsible citizenship in the social order. They are to work together to promote justice and seek the common good through individual action and by means of corporate activity. Valparaiso is one such means of corporate activity by Lutheran Christians who established the University to help men and women fulfill their potentialities, prepare for their personal and professional calling, and contribute to the wellbeing of church and society. The University is grounded in human nature. Man is created by God as an intellectual, moral, and social being who is able to learn, to seek truth, and to gain knowledge, understanding and skill. The fact that men are not justified before God by knowledge or scientific and cultural achievement does not diminish the fact that education is the gift of the Creator. It is a means to enable human beings to develop their God-given abilities for personal and social uses. Effective teaching and learning, as well as sound scholarship, research, and creative work are in accord with the good and gracious will of God.
Valparaiso University is a community of learners - teachers and students - engaged in an earnest quest to understand more fully the demands upon life which God imposes and His gifts to them by grace and in nature and reason. Valpo seeks to help men and women explore their interests and develop their abilities, establish the beliefs, values, and perspectives which shape their personalities, and equip them to live responsible lives. Valparaiso was built as a church-related university because its members trusted in the Word of God, the promises of God. So may it continue to be in our time. This is our heritage. This is the source of our hope and courage for the future.
II. CALLING
The call of God comes to each of us as individuals through the Gospel, which is the gift of forgiveness of sins and new life in Christ. God calls us to be who we are in Christ. This call, centered in the gracious presence among us of the living Christ, is the foundation of the calling we are to live out in our personal lives and in our station in life, whatever occupation or vocation or profession we pursue.
Valparaiso University has its distinctive calling. Although as a university it shares with other institutions of higher education many common academic characteristics, it is called to be what it is: a church- related university in the Lutheran confessional tradition, a university under the Cross.
In broadest terms, the calling of Valparaiso University is to assist the men and women it serves in developing all aspects of human character: spiritual, intellectual, personal, moral, social. In and through formal studies and campus life and activities, the University is to exhibit concern for that wholeness of personality which marks the integral Christian person. 1. Central to the University's work is its calling to proclaim and teach the Gospel and provide settings and activities through which its members may experience a serious and sustained encounter with the Gospel. The University fosters Christian learning through theological instruction, particularly the study of Scriptural sources and confessional and historical traditions of the Christian faith and life. There is concern for sound doctrine but not a doctrinaire approach in teaching. There is affirming instruction but in an atmosphere of mutual respect and trust in which teachers and students deal with one another as responsible individuals. The University calls upon its teachers of theology to be effective instructors and responsible scholars; indeed the quality of instruction in religious studies needs to equal or surpass the best offered in other disciplines and fields of study. There needs also to be provision for ongoing dialogue involving teachers of theology and teachers of the various arts and sciences disciplines, discourse which deals with topics and issues that appear at the interface of scientific, humanistic, and theological inquiry.
2. As an institution of higher education, Valparaiso's calling includes commitment to the quest for truth through study of the main areas of human knowledge. Work in classroom, library, laboratory, and studio is central to the calling of the University and in the lives of teachers and students. The University in its essence is an academic community - not in pejorative sense of the word "academic" as connoting abstruse and impractical knowledge, but in the proper sense of developing and using critical and constructive reason and creative imagination. The University affirms the high value of learning and a belief that knowledge and understanding, sought with vigor and applied with love, enhance human life. A primary part of the University's calling, therefore, is the pursuit of truth, the preservation, transmission, and augmentation of human knowledge and understanding, and the cultivation of creative and artistic expression through instruction in arts and sciences disciplines. The University carries on these activities, however, acknowledging that human knowledge is limited and that no system of knowledge is absolute. All that we know through the arts and sciences is what other minds have made of them and what we ourselves can make of them. All knowledge has been fashioned by human beings - a truism that is often forgotten. Academic "subjects" are bodies of information and truth- claims made by human beings and reflect their ways of perceiving and judging, their interests, and their modes of interpretation and methods of inquiry. The accumulation of scattered, unrelated, and uninterpreted information is not education. Our goal in higher education is to present the disciplines of knowledge in such a way that no statement stands alone, divorced from its human creator. For example, our historical knowledge is based on interpretations of documents and other artifacts assembled and interpreted by the historian. The study of history is a study of man's compositions about past events based on particular modes of interpretation and frames of reference. As Carl Becker observed, "Left to themselves, the facts do not speak; left to themselves they do not exist, not really, since for all practical purposes there is no fact until someone affirms it... The history of history is a record of the 'new history' that in every age arises to confound and supplant the old." The sciences, too, are not means by which we unbare "objective reality," but are products of human inquiry in which scientists participate in the creation of the world of science. The arts, likewise, are products of processes by which human beings achieve form and structure in representing the perceived or imagined world and interpreting deeply felt experiences.
3. Another aspect of the academic calling of the University is providing settings in which ideas and issues may be freely presented, discussed, and studied. The allegiance Christians give to God, Who was in Christ reconciling the world to Himself, is a giving of themselves to Him in whose service is perfect freedom. This includes the free and responsible use, in earthly matters, of the reasoning powers God has given them. The calling of the University does not lie in shielding students from uncommon ideas but in helping them to place all ideas and truth- claims in the kind of perspective which helps them to think about them in light of all the rest we know, including the best we know. Freedom to teach and to learn is not freedom from obedience to law but the responsibility to respect the law, the discipline, of inquiry and to resist tile temptation to escape into trivial and time-consuming activities which deflect teachers and students from serious study, scholarship and professional activity. The teacher's freedom includes his responsibility to develop competence in his discipline and in the craft of teaching so that he knows what he teaches and how to teach it. The student's freedom to learn includes the responsibility to be engaged seriously in learning activities. Unless students devote time and energies to reading and study, they will learn little no matter how effectively their teachers teach.
4. Education at Valparaiso University is free for the Gospel. University teachers do not offer salvation through their disciplines and fields; the Gospel is not the work of professors or of curriculum committees, but is God's gift. Freedom for the Gospel is a voluntary and insistent refusal to make a "god" of human knowledge. Freedom to teach and learn calls upon teachers and students to understand and appreciate the real but limited nature and uses of human knowledge, and to restrict their knowledge- claims to their areas of competence. Responsibility to the Gospel also entails pointing out false prophets and ideologies and showing that to make ultimate claims for human knowledge is fraudulent and obstructs the Gospel. The Gospel is best served by its forthright and unhindered proclamation and teaching and by no other means. This is why the University commits itself to the freedom that lets the Gospel be the Gospel and to intellectual freedom and responsibility in the disciplines of knowledge. In the unrestrained and uncoerced presentation and discussion of ideas and issues, the University is responsible to refrain from becoming an advocate of a particular social, political, or economic doctrine. The University's calling is not to espouse causes but to prepare students for participation in the world by an education which imparts understanding and moral discernment. The University must resist those who, in their own interest, seek to prevent free inquiry or to use the University to advance their special cause. To fulfill its calling the University must keep its integrity. 5. From this discussion of the academic dimensions of the calling of members of the University community, it might seem that students and teachers are disembodied intellects. Of course this is not so. The University joyfully affirms the holistic nature of the human being as an integral person: body, mind, and spirit. The life of the mind cannot be separated from the lived world where we act and feel and interact with others and where we live out our values and commitments. Along with concern for academic learning there is concern to create and sustain a community of care, a fellowship of persons who respect and love each other. As a living-learning community, the University views its calling as not confined to classroom, library, laboratory, and studio but as including our common life in residence halls, on playing fields and in gymnasia, and the whole of social, cultural arts, and recreational life and activities on campus. Physical and social activities help students gain self-understanding, awareness of their emotions and how to cope with them, and a sense of their potentialities and limitations. Friends, roommates, peer groups, and student culture set the framework and living patterns of student life. Residence hall life and campus activities deserve and receive careful and caring attention by members of the University family.
Valparaiso has a special responsibility and opportunity to provide regular worship experiences and to sensitize its members to the central place that proclamation of the Gospel, worship and prayer, and the celebration of the Eucharist have in the Christian life. The University also offers a variety of forms and processes for providing pastoral counseling and care to meet the needs of students and contribute to their well-being. The intent is to help the student understand and accept himself as an adopted member of God's family who is liberated by the Lord of the Church for wholeness of being and fullness of living in a life of service.
The calling of the University includes offering means for theological instruction and spiritual formation, serious academic activity, free and responsible inquiry and discussion, and edifying social, cultural and residence hall life. Valpo seeks to keep hearing and heeding this call.
III. PURPOSE AND COMMITMENT
The University is in sound shape today in most of its essential features. Our generation inherits a rich legacy and noble heritage. But there are challenges to meet, new tasks to take up, if the University is to keep moving forward in its mission. Following are some of the challenges which should engage our early attention. 1. In our complex social order, students parents and others are concerned with the question of what kind of higher education prepares best for specific careers in vocational and professional life. Enrollments in liberal arts programs have stabilized or declined while those in vocational and professional fields are growing. In many places growing specialization of studies is squeezing liberal studies out of the curriculum. A vibrant and viable university will insist that both liberal and professional programs be of high quality. The fundamental question is how to instill in students not only professional capabilities but also intellectual and moral competences that can steer developments in science and technology along humane lines. Liberal studies are needed and the time has come for an open, straightforward defense of liberal arts education.
A truly liberal education is one that forms, guides, and nurtures persons who know how to think, to express their thoughts, to receive the thoughts of others; persons who can follow the lights and shadows of a printed page, discerning what is central and what is secondary; persons who have gained control of methods of acquiring knowledge that will lessen their ignorance as time goes by and afford them ways of continuing their education throughout their lives. Music, art, literature, history, philosophy, theology, and the social sciences are not means of escape or unnecessary appendages to human understanding but are sources of high values. Liberal studies provide for breadth, open the student to alternatives, and allow for changes in direction and lateral movement as interests are enlarged, clarified, and altered. Out of new values gained and older values refined, we learn new obligations for ourselves, new disciplines for life, and some creative renunciations. Enduring values and principles persist beyond the shifting data of existence and abide in spite of changing fashions in the world. Liberal education is no sleek adventure in shrewdness and calculating self-advancement. It has one objective above all others; to open the mind and heart, under God's law and promises, to the highest excellence and the most significant life possible. Liberal studies also give vocational help to the learner. For the future business and professional person, they offer a basis for associate thinking, applying the experience and methods of one field to problems of another, and means for carrying on one s own education throughout life. All this is clearly a "vocational" asset, even when vocation is too narrowly defined in terms of occupation or job alone. More broadly, liberal studies can provide a disposition to view all one does as part of his Calling, all of life as of a piece. Those who represent the University in admissions activities, and in any other way need to keep "getting this story out" to prospective students and others.
We need to provide meaningful commonality in our undergraduate programs, revising or replacing cafeteria-line approaches to the general studies curriculum, by defining anew the meaning and nature of undergraduate general education in terms of essential learning. The Educational Policies Committee of the University Senate is to be encouraged in the work it is now doing along these lines. We need also to recognize the interdependence of professional and liberal learning, promote better integration of professional and liberal studies, by finding new ways to apply academic learning in concrete situations, provide experiences that link academic disciplines with social, professional, and vocational realities and relate theory and practice in the world. A marriage of the theoretical and the concrete, of the academic and the instrumental, is both possible and beneficial and is not inimical to the life of mind or hostile to academic standards or subversive of continuing commitment to the preparation of young people for the higher professions. Students and faculty can make optimum use of the University's Counseling Center and career planning program by exploring careers for which liberal studies provide effective preparation.
2. The lesson drawn by Joseph in Egypt, in interpreting Pharaoh's dream as signifying that seven years of rich harvest would be followed by seven lean years, and the need to redeem the time during the seven "rich" years, is instructive for us today. Our human, financial, and material sources, although reasonably adequate to sustain our University during its earlier periods of growth and expansion and its more recent stabilization in size, may well be strained in lean years ahead. The University's continuing strength demands highest quality academic programs and educational services which will make them attractive to students and supporters. We need to create processes for evaluating our academic programs in terms of such factors as quality of program and instruction, place of offerings in overall academic operations, enrollment trends, program costs, and the like, as a basis for setting priorities in the allocation of resources. If the years ahead do prove to be lean ones, we need to take steps now to avoid across-the-board curtailments which would indiscriminately weaken all programs alike, and instead find ways, which faculty members should have a significant voice in determining, to strengthen or discontinue weaker programs, maintain and improve strong programs, and install new programs.
3. A related task ahead has to do with instructional quality. The quality of teaching at the University is high in many areas, but still can be improved. It is less strong in some other areas. We need jointly to establish processes for the systematic assessment and improvement of instruction, and programs of professional development for members of the faculty which provide increased opportunities not only for research, scholarship, and creative work but also for the improvement of teaching and for personal and professional renewal and retooling. We need evaluation and professional development programs also for members of the administrative staff. Faculty members and administrative staff personnel are critical elements in the University's achievement of its mission and purposes. The integrity and effectiveness of the University rest in great measure on the men and women who teach and serve here. The University's real "bottom line" is the members of faculty and staff. In no university are faculty and staff more important than at Valpo. The University expects much of its teachers: that they be effective masters of their liberal and professional disciplines and fields, interested in working with and advising students as individual persons, doing the kind of course planning and instructional management and the kind of scholarly and creative work which keeps them growing and their teaching vital, maintaining intellectual and theological dialogue with their colleagues, giving service on a selective basis to church and society and performing the various kinds of department and University activities and committee services required to maintain the institution. Not just any academically and professionally qualified persons, however well prepared in terms of customary norms of scholarly and professional excellence, will do, for those who serve at Valpo are expected to support its mission and purpose as a Lutheran university and to carry forward all their activities as parts of the Calling. To sustain and strengthen them in these exacting and demanding tasks, faculty members need time and opportunity for scholarly and creative work, multifarious service activities, and professional and personal renewal. This means that resources of time and money are needed.
4. Earlier we noted the importance in the University's pursuit of its mission and in the overall educational experiences of its students, of the quality of life in residence halls, fraternities and sororities, and of social life and recreational and cultural activities. The impact of the University depends as much on informal living processes and settings as on formal academic studies, as much on community ethos as on explicit ethical instruction. Student services leaders and personnel, including resident directors and assistants, have been working steadfastly in the interest of wholesome residence life and an ennobling campus ethos. Through the reorganized Union Board, the University has taken considerable strides forward in enriching cultural life and in offering a variety of social and recreational activities which give expression to the University's mission in the whole of campus life. With the interest and involvement of student body and faculty leaders and members we can continue to move forward in "…building a campus community of concerned persons who are ready to support and help one another and in which its members exercise responsible self-limitation so that the benefit of all may be achieved."
5. The University's programs and resources are directed in greatest measure to its five undergraduate colleges and its School of Law. This is as it should be. But the University's resources for graduate programs, evening division credit-bearing continuing education programs, and non-credit-bearing adult education offerings, as well as the considerable academic and professional resources of the faculty, should be made increasingly available to persons and groups in the local community, the Northwest Indiana region, and the church at large. Programs of these sorts which have been well begun should be expanded and readily available and attractive to these persons and groups. Ways will need to be found for adults who wish to begin University studies or to continue interrupted degree programs to do so at convenient times and places. The University is a rich educational, cultural and recreational resource for the local community, and we are grateful that many members of the community share it with us and support the University so well. We can continue to explore new avenues of cooperation and mutual support to enrich the life of our community.
The University has rendered important service to the synod and the church at large by providing facilities for various centers and associations. These have also enriched the life of the University. We should continue to explore ways to be of greater service to synodical and other Lutheran associations, auxiliary agencies, and Christian groups. By its nature and in light of its partnership role with the Synod and other Lutheran churchbodies, the University can serve as a useful and unifying resource for the mission and ministry of the church.
6. The marvelous support of the University evidenced in the "Forward to the Eighties" program has enabled it to receive substantial funds for capital construction, campus development, building the endowment, and meeting operational Costs. The construction of Urschel Hall, which will house the College of Business Administration, is the most recent achievement of this program. Even so, it has not been possible for the University to keep pace with the spiraling inflation in the economy with respect to faculty and staff compensation. We have a loyal, capable, and dedicated faculty and staff. They have served and are serving well. We must find ways to improve their compensation. This will require more unrestricted income, not derived from student fees, that can be allocated to the compensation portion of annual operating budgets. This goal will not be easily achieved. Building up endowment funds is a difficult task. But we must attend to it as a matter of justice, of equity, and of University self-interest: that compensation levels at the University may reflect its qualitative strength and high service expectations; that special increments may be provided for cases of individual adjustment and to recognize quality of contribution; and that members of the faculty and staff are not forced by economic necessity for family well-being to seek remunerative employment "on the side," whether in meaningful professional activities or otherwise. To provide increased financial aid for students, as fees inevitably rise to meet the University's fixed costs, scholarship funds must be built up so that qualified students who wish to benefit from a Valparaiso University education are not prevented from doing so as a consequence of economic barriers. We need also to continue the great steps forward already taken to provide, needed facilities - suitable places and spaces where essential University services are performed, not mere expansion for its own sake. This includes improved quarters for some departments, facilities for the performing arts, recreational sports and athletics, and a center for administrative and other University operations. A plan is needed also for adaptation and use of the West Campus (old campus) appropriate to its location and potentialities for years ahead. With such an "agenda for the 1980's," it seems timely, indeed essential, that we find ways to initiate study and planning processes to sort out and order our priorities. One possibility is creation of a broadly representative coordinating Council on University Priorities and Planning which would be given staff support through an office of Institutional research and planning. As Dr. Kretzmann noted in his inauguration message after having listed a similar set of immediate objectives, "These more immediate objectives are not only attainable but almost desperately imperative if we are to continue the process of building the University toward the vision and the dream of its founders and supporters. We shall have no time for contemplation of possible failure. Ours is a great task. If we are to accomplish it, our spirit must be great - great in its humanity, great in its devotion, great in its single-mindedness and relentless driving toward the realization of the will of God for Valparaiso University."
*****
Members and friends of the Valparaiso community, it is this understanding of the University's heritage and destiny I commend to all of you, colleagues and friends, as together we plan for the future. In what manner and to what degree the University defines its mission and fulfills its purposes as a university which keeps deserving that ascription and as a Lutheran institution of higher education depends on the providence and blessing of God, the clarity of Valpo's mission, the vital help of alumni, Guild, congregations and friends in student recruitment efforts, and the vision and commitment of its members and supporting constituency.
Dr. Huegli's words uttered 10 years ago speak also for me: "We see the achievements of the past and wonder how our predecessors were able to surmount obstacles so successfully. We look ahead and could easily be overwhelmed by the staggering burdens placed upon us by the future. How does the University approach the future? Surely not with misgivings but with anticipation. Our destiny will require a great stretching of the muscles of our minds and spirits. We shall have to rely on our Board members, our alumni, our Guild. We shall need the support of the church and friends and supporters in tangible as well as material ways. We shall have to look to our community, to our national constituency of congregations and individuals for strength and encouragement. We on the campus shall need each other - teachers and learners and everyone who helps them do their vital work together. Above all, we need faith, 'Putting our confidence in the things we hope for, being certain of things we cannot see.'"
And at the last, the words of the Pilgrim, spoken 38 years ago, are peculiarly appropriate now, and I gladly appropriate them as my own, "I am deeply grateful for the privilege of joining the company of men and women who have prayed and worked for Valparaiso University these many years. I know that our task is great. We cannot wait for another time and another generation. Clearly aware of the magnitude of our task, deeply committed to the importance of our work, humbly certain of our destiny, we may hope, under God, to prepare a growing number of men and women who will go out of this community into the world as living embodiments of this University."
Let us reaffirm our dependence on the promises of God which brings us hope and courage to move forward with joy. Let us embrace the calling of this University under the Cross to be what it is. Let us rededicate ourselves to its purposes and advance with renewed commitment and confidence toward our challenges and opportunities, with the University motto in our hearts and on our lips: "In Thy light we shall see light." To that end let us pray for the University and for each other, imploring the benediction of Almighty God on us all.
---
Archives Home Page || President's Index Page
Dau || Kreinheder address || Kretzmann address || Huegli address || Harre address