Videos and Public Performance Rights
Public performance rights give users a license to show movies and films to the public and are part of the Copyright Law (Title 17 of the United States Code). Without these rights, it is illegal to show movies or films from the library outside of your home (or dorm room).
Do you need to obtain public performance rights (PPR) to show library videos?
Yes...
No...

if the screening is open to the public, such as showing a foreign-language film to the community for cultural enrichment
if the screening is in a public space where access is not restricted, such as an instructor showing a film to a class for curriculum-related purposes in a public or unrestricted-access location
if persons attending are outside the normal circle of family and acquaintances, such as showing a film to a club or organization, or showing a film for class but inviting others to attend

if privately viewing the film in your room with friends
if an instructor is showing the film to officially registered students in a classroom, where content of film directly relates to course
While the library does not have PPR for feature films, it has purchased the PPR to some of the educational videos we own. Here's how to check to see if the video you want to show has PPR:
Step 1 Search the library catalog for the title of the video.
Step 2 Look to see if PPR is listed under Terms of Use. Caution: If Terms of Use are not listed, you may assume that we do not have PPR for that title.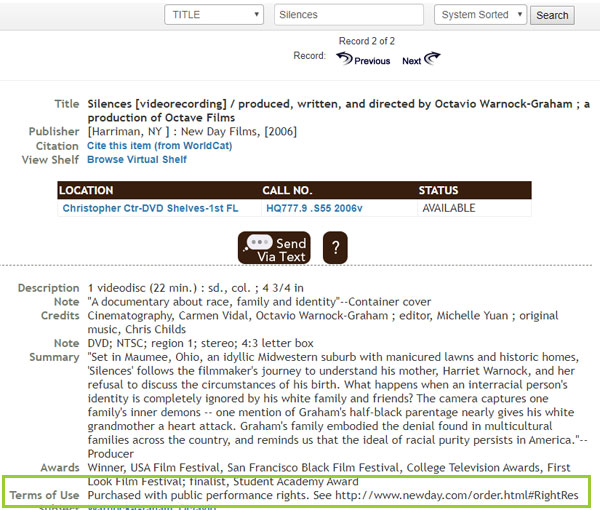 Step 3 Visit the website listed to make sure the PPR includes the use you have in mind. PPR for universities does not usually allow showing a video for which admission is charged or for commercial purposes.
If the video you want to show to a group does not have PPR, you must obtain a license for each performance. The largest licensing company is Swank Motion Pictures (1-800-876-5577).