Faculty: Alison Downey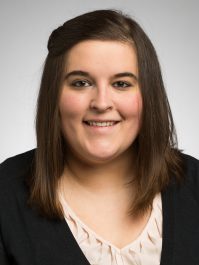 Technical Services Librarian
Assistant Professor
Christopher Center, Room 174
(219) 464-6183
Alison.Downey (at) valpo.edu
Professor Downey joined the Valparaiso University faculty in the fall of 2018 as an Assistant Professor of Library Science. She acts as liaison to the Psychology and Education departments and as the Christopher Center's Government Information librarian. She is responsible for cataloging processes and serves as the primary technical services liaison to OCLC and co-systems administrator for our integrated library system.
Prior to joining the faculty, Professor Downey served as the Digital Services Manager and Government Documents Coordinator at the Valparaiso University Law School from 2012-2018. She has served as the library liaison for the Federal Depository Program since 2016. She also managed the law school's institutional repository, faculty scholarship and the student law review.
Professional Memberships:
American Library Association
Indiana Networking for Documents and Information of Government Organizations (Indigo)
American Association of Law Libraries
-Government Documents Special Interest Section
-Technical Services Special Interest Section
-Institutional Repository Caucus
Chicago Association of Law Libraries
Ohio Regional Association of Law Libraries
Education:
M.L.S. – Indiana University Purdue University Indianapolis
B.A. – Indiana University Northwest
Areas of Specialization:
ILS Management
Reference
Instruction
Other Interests:
A native of northwest Indiana, Professor Downey loves finding new and entertaining things to do in the region and spending time at Lake Michigan. She enjoys geocaching, visiting the local library, reading humorous books and spending time with her family. When she's not doing any of those things, she's probably re-watching The Office.