The Christopher Center provides a venue for rotating art exhibits in designated open public spaces on the 2nd floor. Students, faculty, and area artists may submit a request to temporarily exhibit their work by filling out this Art Exhibit Request form. Works of art chosen for these temporary exhibits are lent to the library by the individual artist for a period of time specified on the Art Exhibit Request form.
The library neither purchases these works nor profits from exhibiting them. While the library will allow the display of contact information for the artist or group, prices for the art work will not be displayed.
Responsibility for the mounting and dismantling of the exhibit is the artist's. Acceptable materials with which to mount the artwork include: hooks and wires from metal strip, picture hangers or small nails, removable mounting (Scotch® Removable Mounting Squares), and removable tape (blue painter's tape, removable masking tape). Materials that are not acceptable for mounting include screws, non-removable tape, non-removable mounting squares, or any other material that will leave holes or tear away the paint or drywall.
While the Christopher Center will provide reasonable security for such exhibits, security cannot be guaranteed and insurance cannot be provided to the artist by the library or the university.
Spaces available for exhibitions include 3 gallery walls.
Gallery Wall 1 (hallway to A&S): 63 ft x 8 ft (51 ft x 8 ft within security cameras)

1A: 11'5" x 7'6"
1B: 20' x 7'6"
1C: 4'5" x 7'6"
1D: 13' x 7'6"

Gallery Wall 2 (short connecting hallway): 27' x 7'6"
Gallery Wall 3 (off Community Room)

3A: height 9'
3B: height 7'7"
Length: 27'5"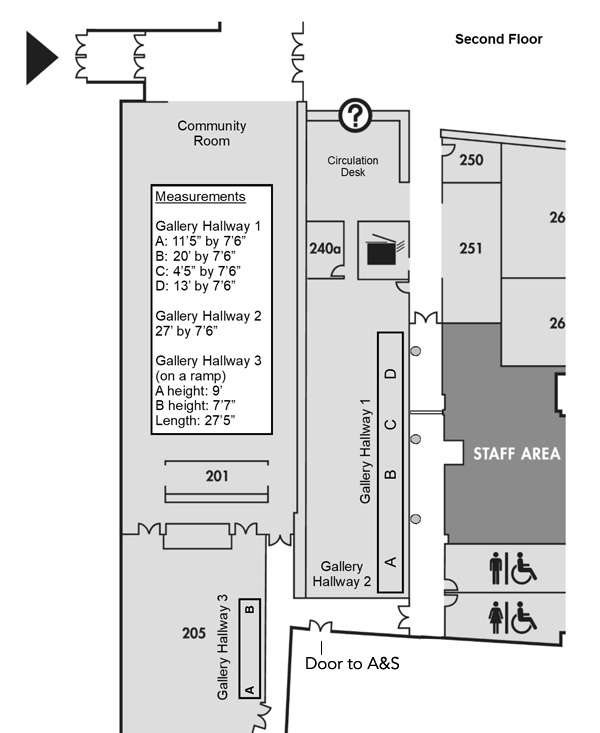 In accordance with the Library Bill of Rights, the Christopher Center makes this display area available to the VU campus and the community at large regardless of the beliefs or affiliations of individuals or groups who have requested the use of this space.