One Button Studio (CLR 162)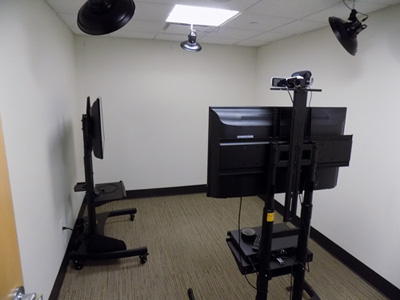 Room Capacity: 4
The One Button Studio is an easy to use digital video production studio that requires no prior video production experience. The studio is located in CLIR 162 and is available for use by all Valpo students, faculty, and staff. Examples of projects the studio is great for include: presentation rehearsal, recording interviews, practicing a new language, creating a course introduction for online courses, creating training videos, and creating ePortfolio materials or video essays.
Click here to learn more about the One Button Studio!
Reservations:
Place reservations through this form.
Allow 1-2 days for approval notification, if reservation is within 24 hours, call the Circulation Desk at 464-7350. Walk-ins welcome when studio is available.
Room is to be scheduled for video production purposes only, not for personal or group study.
Reservation is forfeit if more than 15 minutes late.
Reservations are made in 1 hour increments with a weekly maximum of 8 hours.
Studio Use:
Camera and screen should not be moved or altered.
Users are responsible for coordinating the delivery and removal of any additional props, set pieces, or other peripherals necessary for their session.
Room should never be locked when in use by patron.
Window should remain free of any coverings while OBS is in use by patron.
No food or drink permitted.
If there are any technical issues with the equipment in the room please report them immediately to the Circulation Desk.
Studio capacity (1-4) must be respected.
Users are expected to monitor their belongings, especially valuables, at all times while using library facilities. Christopher Center for Library and Information Resources is not responsible for loss or damage to any article(s).
Failure to follow the rules of the room can result in fines and/or suspension of room use by the patron.